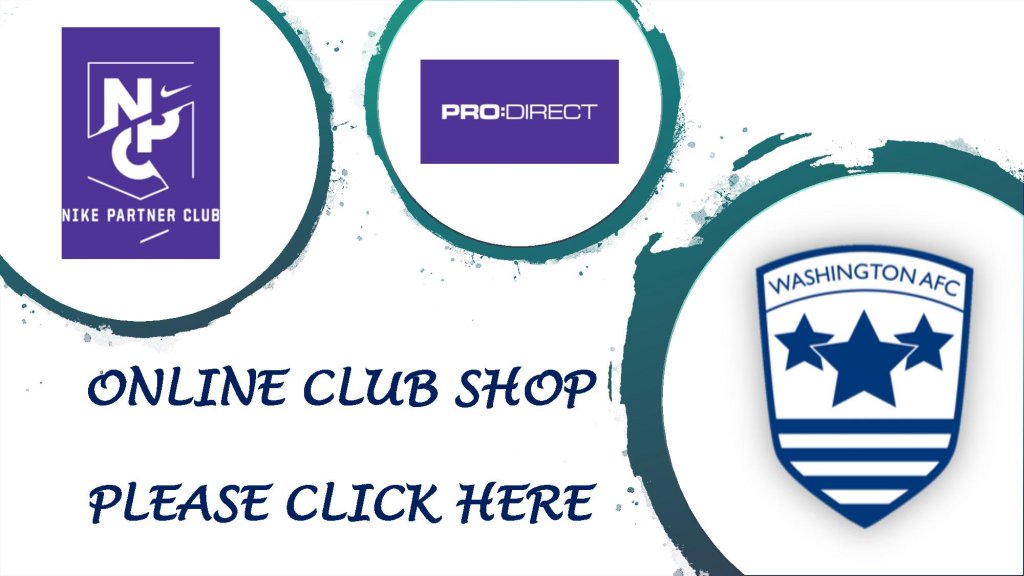 Washington AFC Shop Pro Direct – Step by Step Guide
Please click on this link and register for a ProDirect account or sign into an existing account if you already have one – www.prodirectsoccer.com/clubshop/?clubSharedId=ltmYhlwRbBd4BoQWhHvdf7IPzcGs57gPmQyMIsvt20m7lpdT4a483ZCdj84olikJ
Upon completion of this registration, you will automatically receive a welcome email. This includes your 10% discount code for non-sale boots on our website.
Once you have completed this registration for the first time the shop will appear with all the Washington AFC items. The link can be used to access the club shop whenever you would like.
The easiest way to navigate the shop is to use the "Team" Filter on the left-hand side. You can select to view just Adult / Junior / Coaches training kit. Click the box of the section you would like to view, and the page will show these items for you,
To add a product to your basket, simply click onto the photo of the product. This will open the page for that product.
Please then select your chosen kit size & Press the black "Customise" Button. (Please note that all itm have been set up to include the Washington AFC badge.
On these items you can only proceed by clicking on the "customise" button as this is how the system knows your order is to be completed with the Washington AFC Badge. After clicking the black "Customise" button a pop up will appear with a photo of the item & Washington AFC badge. Please note the badge will be applied properly and this photo is just a preview) you should then click "Finish Customisation" & then "Add to Bag"
Repeat these steps for all the products you would like to purchase.
After you have added all your required items, click "Checkout Now". This will take you to the checkout page where you confirm your contact details, delivery address, chosen delivery option & make payment using the payment option section.
For any support once you have placed your order on our website, please email [email protected] directly. Please use this email address instead of the general customer service address as Team Sport Sales will be able to provide quicker direct support regarding your order.